High Pressure Hydraulic Pump Industrial Electric Torque Wrench Pump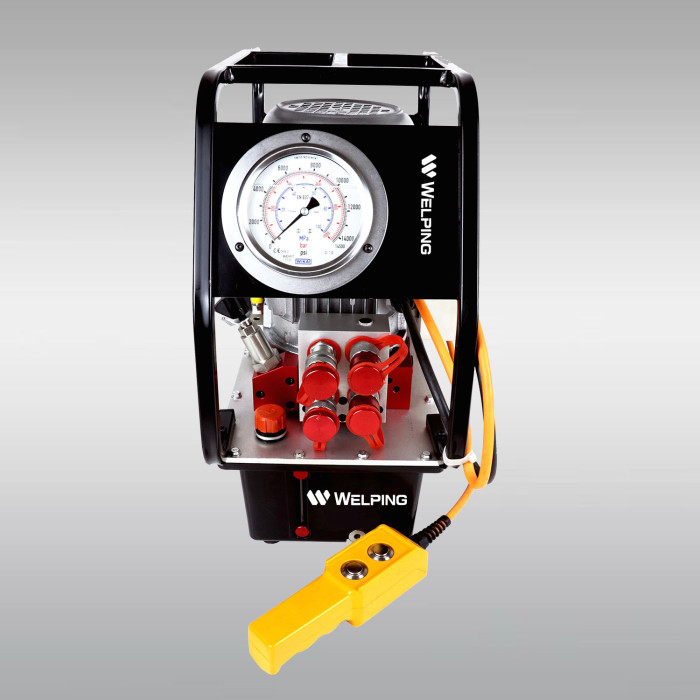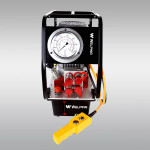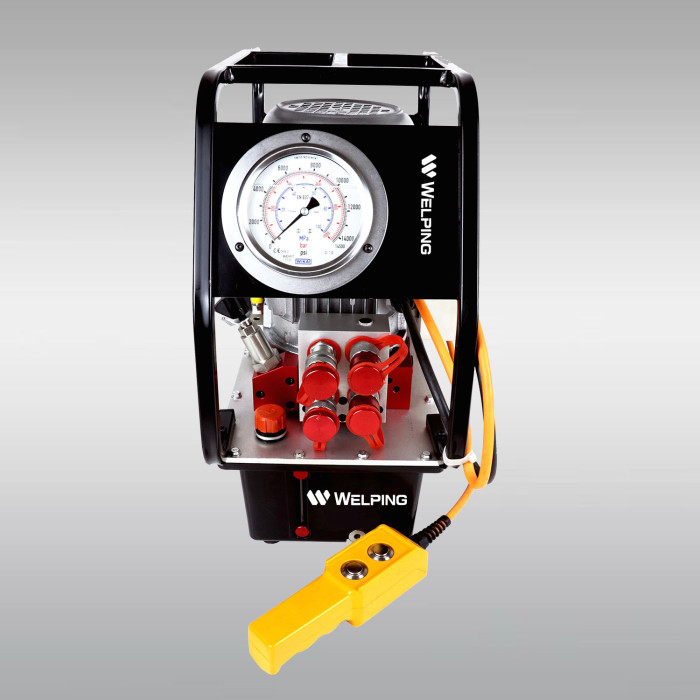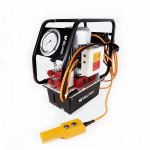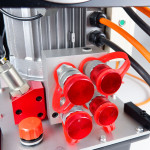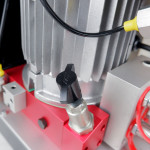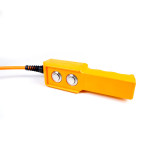 | | |
| --- | --- |
| Categories | Hydraulic Pumps |
| Brand | Welping Fusion Welding & Plumbing Tool Manufacture |
| Model | WPR |
| Color | Black |
| Max working pressure | 700bar |
| Tank Capacity | 5.5L |
| Flow(Low-Mid-High) | 5.5-1.4-0.7L/min |
| Power | 0.9KW |
| Update Time | June 3,2023 |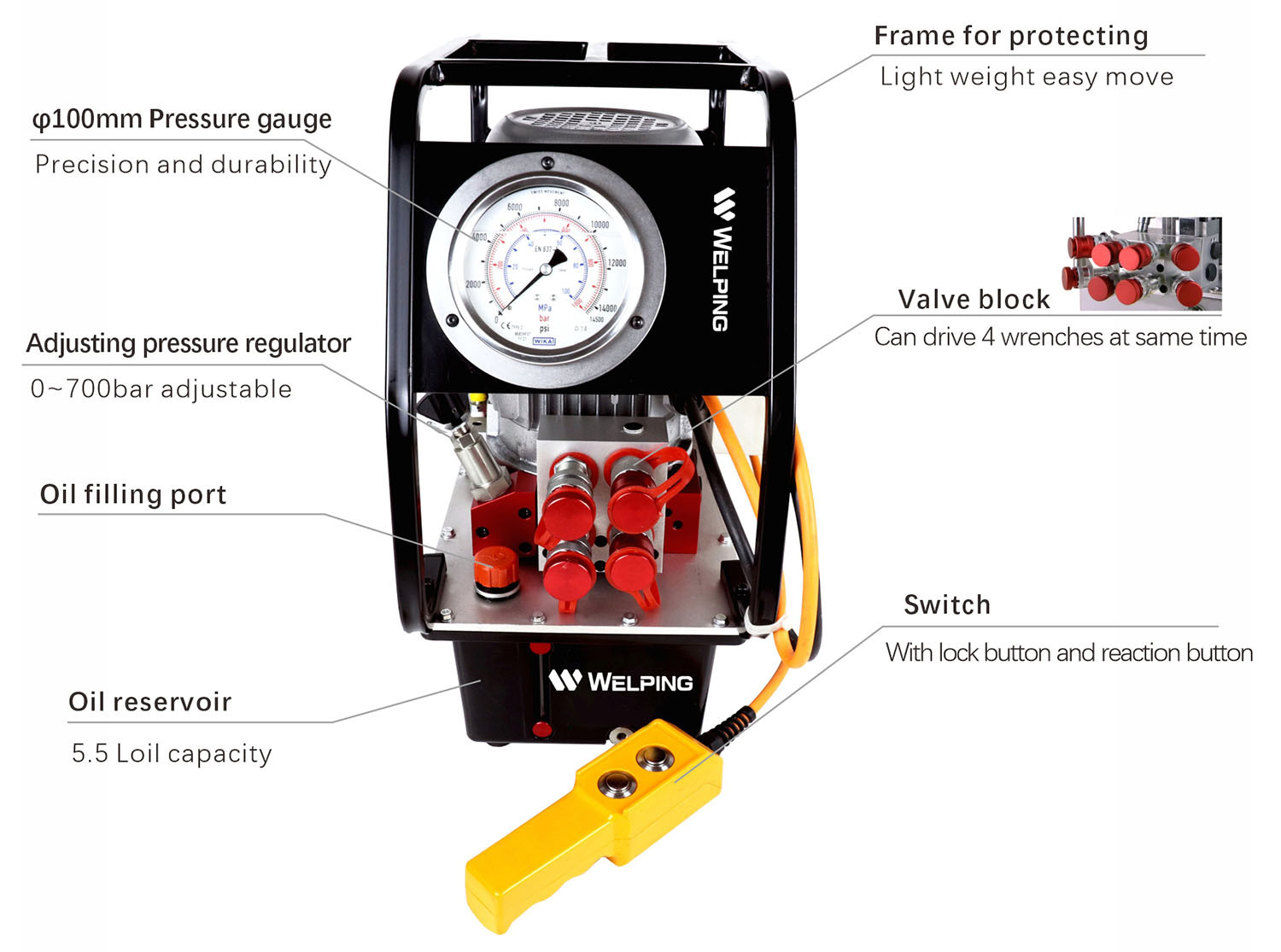 DETAILS
WPR Electric Torque Wrench Pump
series is a special pump for hydraulic wrench. It is assembled in an integrated manner.
It combine independent and complete hydraulic device composed of a power unit, an electrical unit, a control device, etc. The working pressure is high, and the oil pressure of the high-pressure outlet can be adjusted arbitrarily between 70 and 700 bar(10000psi).
FEATURES

●Compact three-stage pump for operation with hydraulic wrenches. ●Remote controls. ●Multipoint connection for more torque wrenches available on option. ●Three stage pump unit driven electric engine or air hydraulic. ●Oil cooler for continuous operation - supporting and protecting steel bracket. ●Ǿ 100 diameter pressure gauge, aluminum oil tank with oil level indicator. ●nfinitely variable pressure adjustment between 0-10000 psi. ●Adjustable maximum pressure for tool return stroke. ●Designed for continuous operation, hour meter on option.
1 Set

1 Pc

Quick Coupler

2 Sets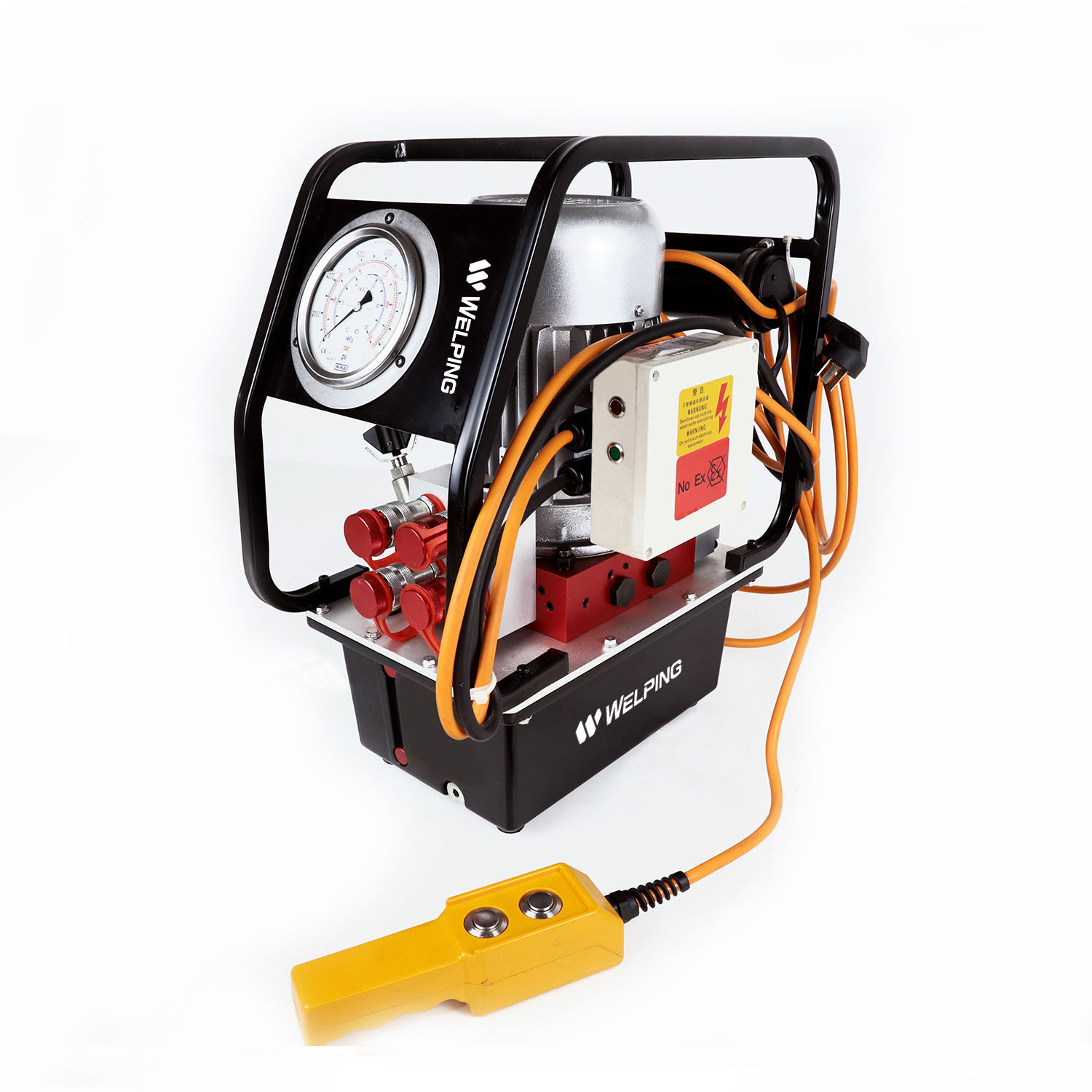 | | | |
| --- | --- | --- |
| Catalog No. | 675060 | 675061 |
| Model No. | WPR-2 | WPR-4 |
| Operating Wrench | 2 | 4 |
| Tank Capacity | 5.5L | 5.5L |
| Flow(Low-Mid-High) | 5.5-1.4-0.7L/min | 5.5-1.4-0.7L/min |
| Output Pressure | 70~700bar(10000psi) | 70~700bar(10000psi) |
| Voltage | | |
| Power | 0.9KW | 0.9KW |
| Oil outputs | 2×1/4"NPT | 4×1/4"NPT |
| Weight | 25kg | 27kg |
| Volume | 30.5*44.5*42.6cm | 30.5*44.5*42.6cm |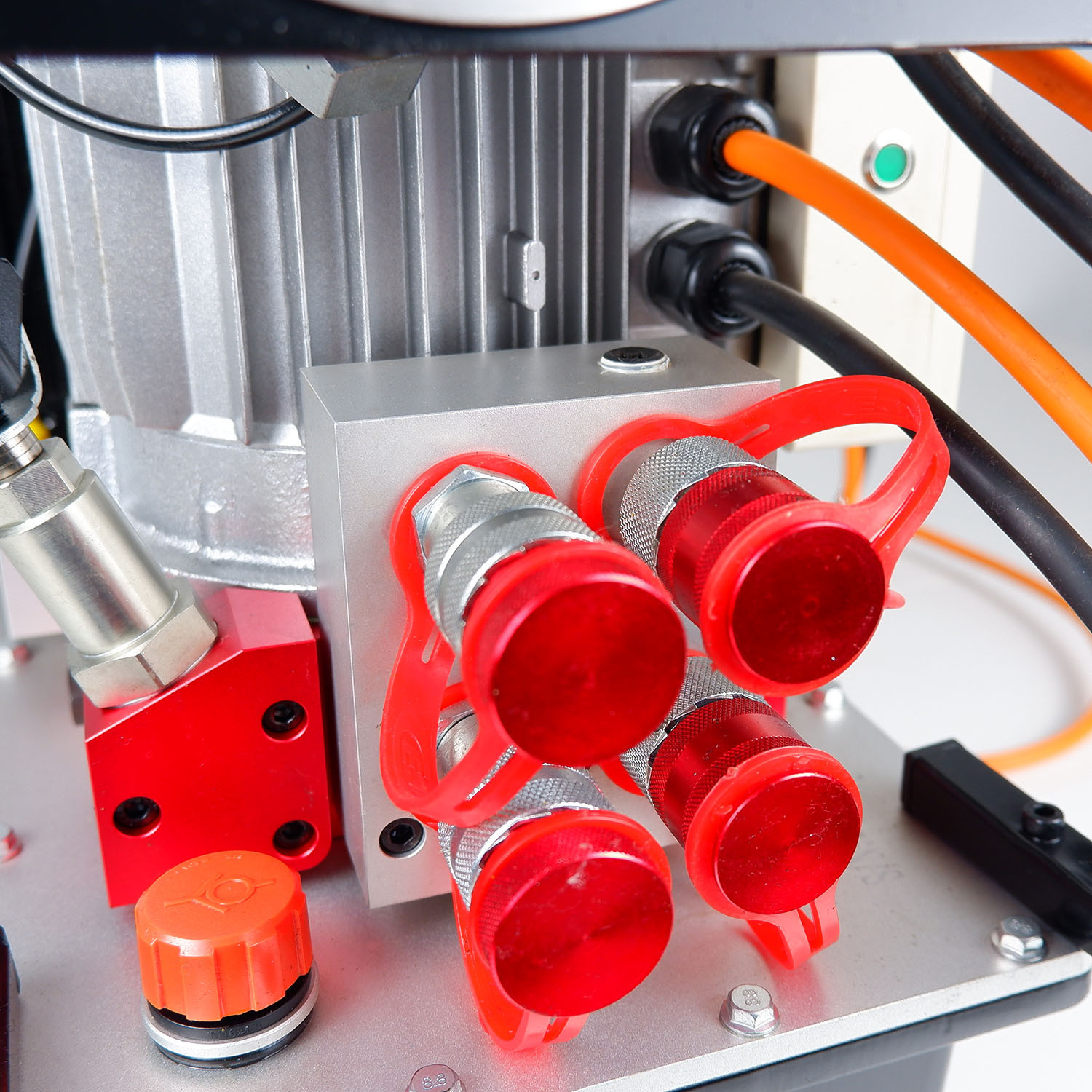 Valve Block Assembly

Applicable on one or two wrenches simultaneously.
Optional components(FP4),can operate four wrenches at the same time.
Adjusting pressure regulator

0~700bar adjustable (0~10000psi)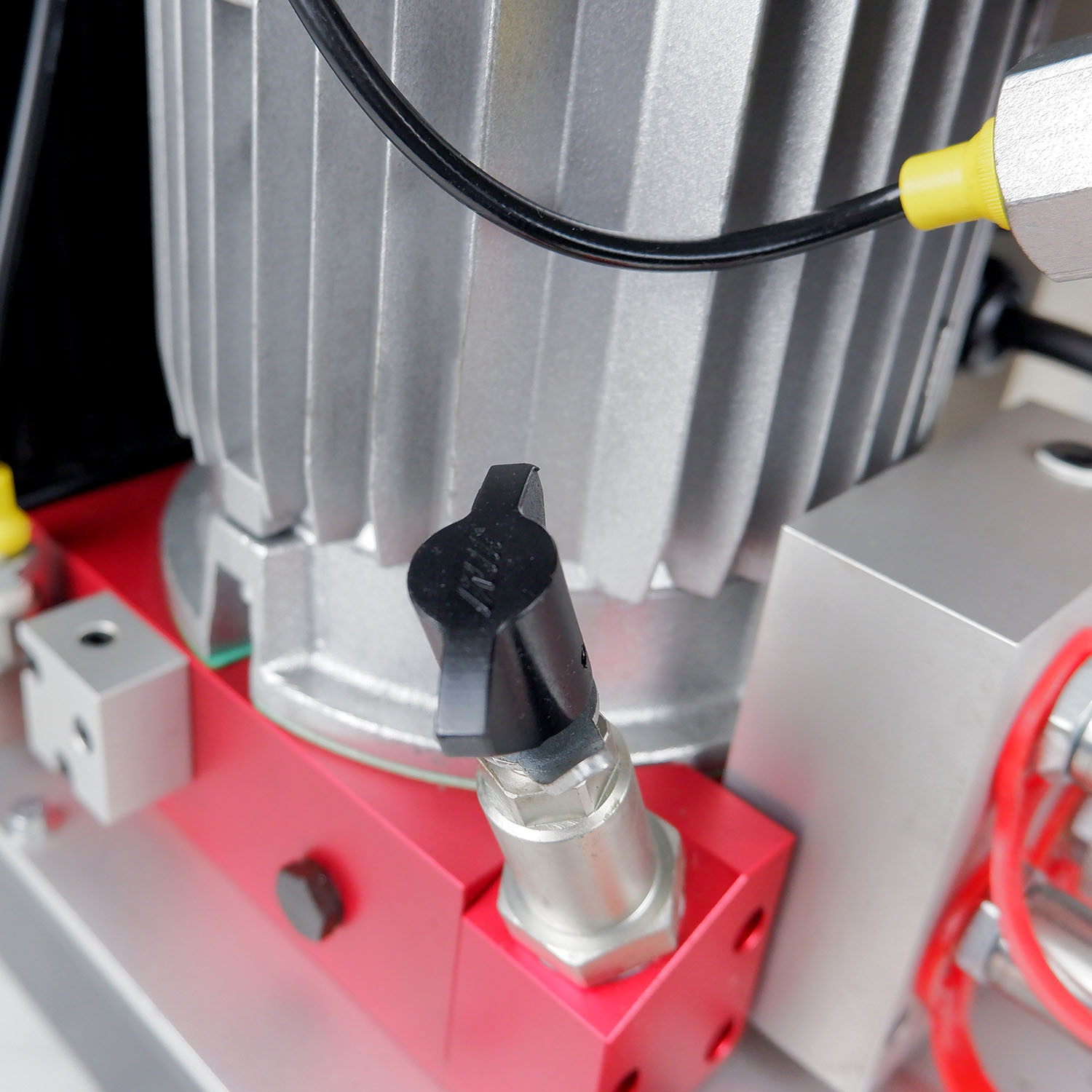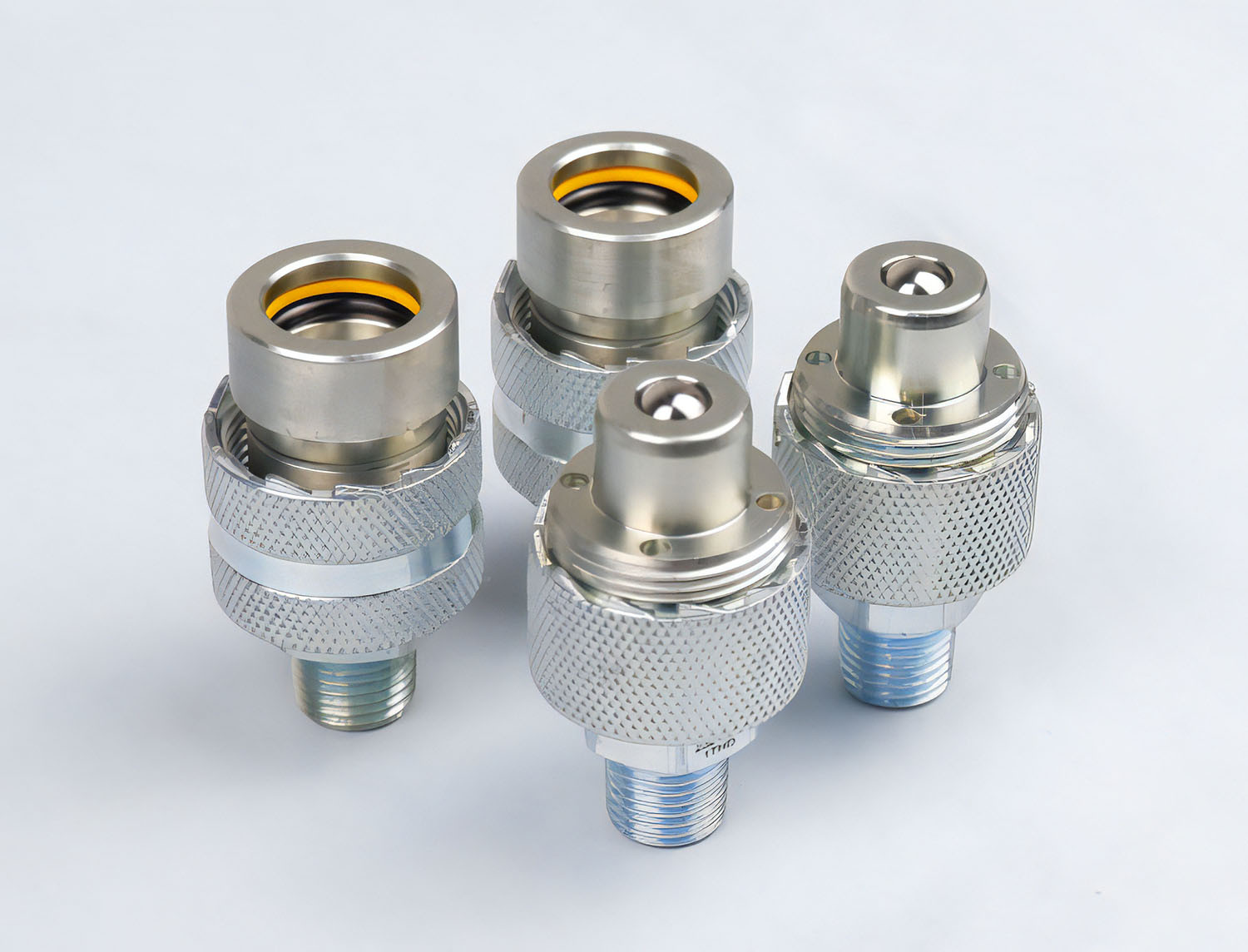 CEJN Quick Coupler from Sweden
Max. working pressure 700 bar ,Zinc plated steel

Connect the power and push the switch at the position of "ON".
Then press the lock button make the power pack working.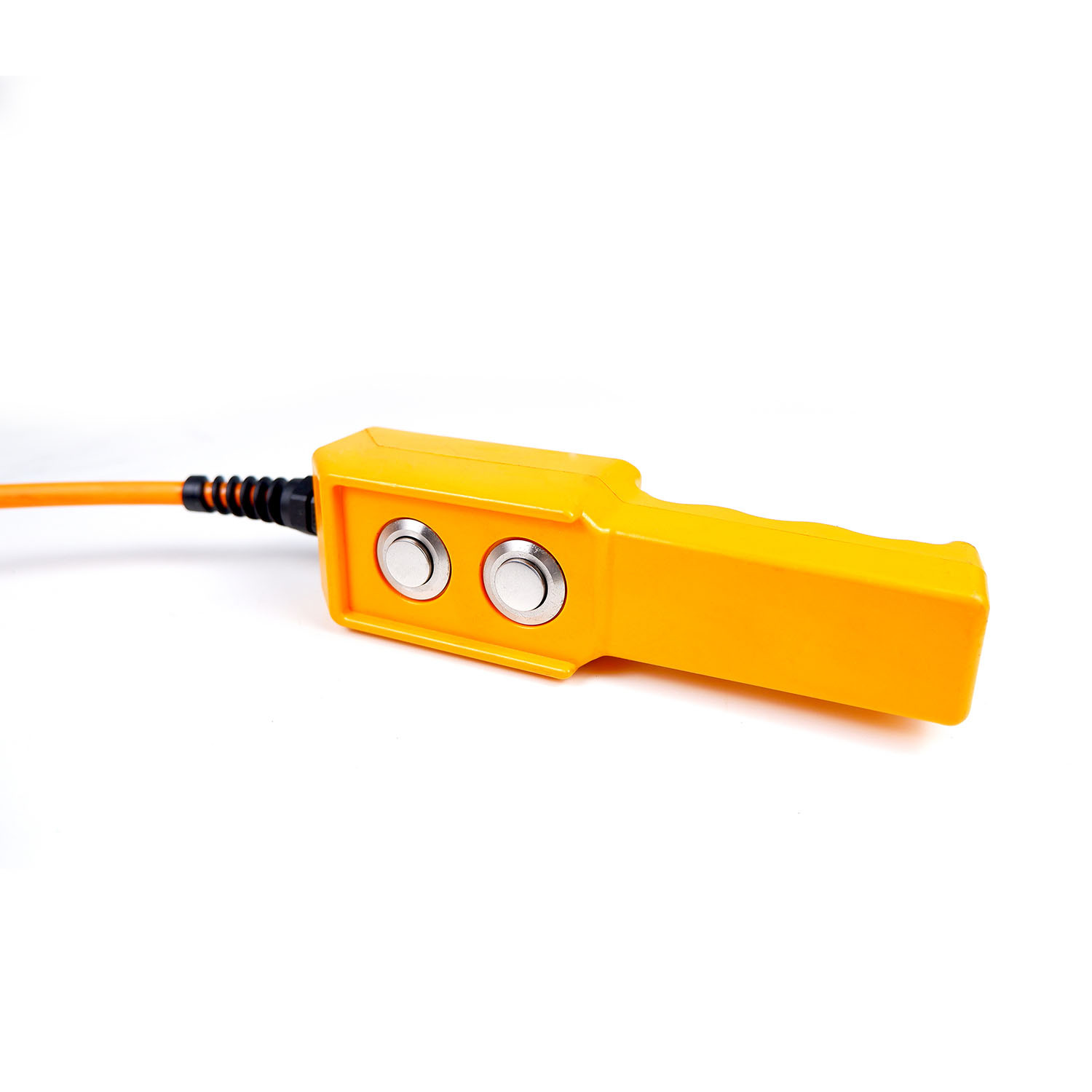 High Pressure Hose (additional)
Max. working pressure 700 bar ,twins hose.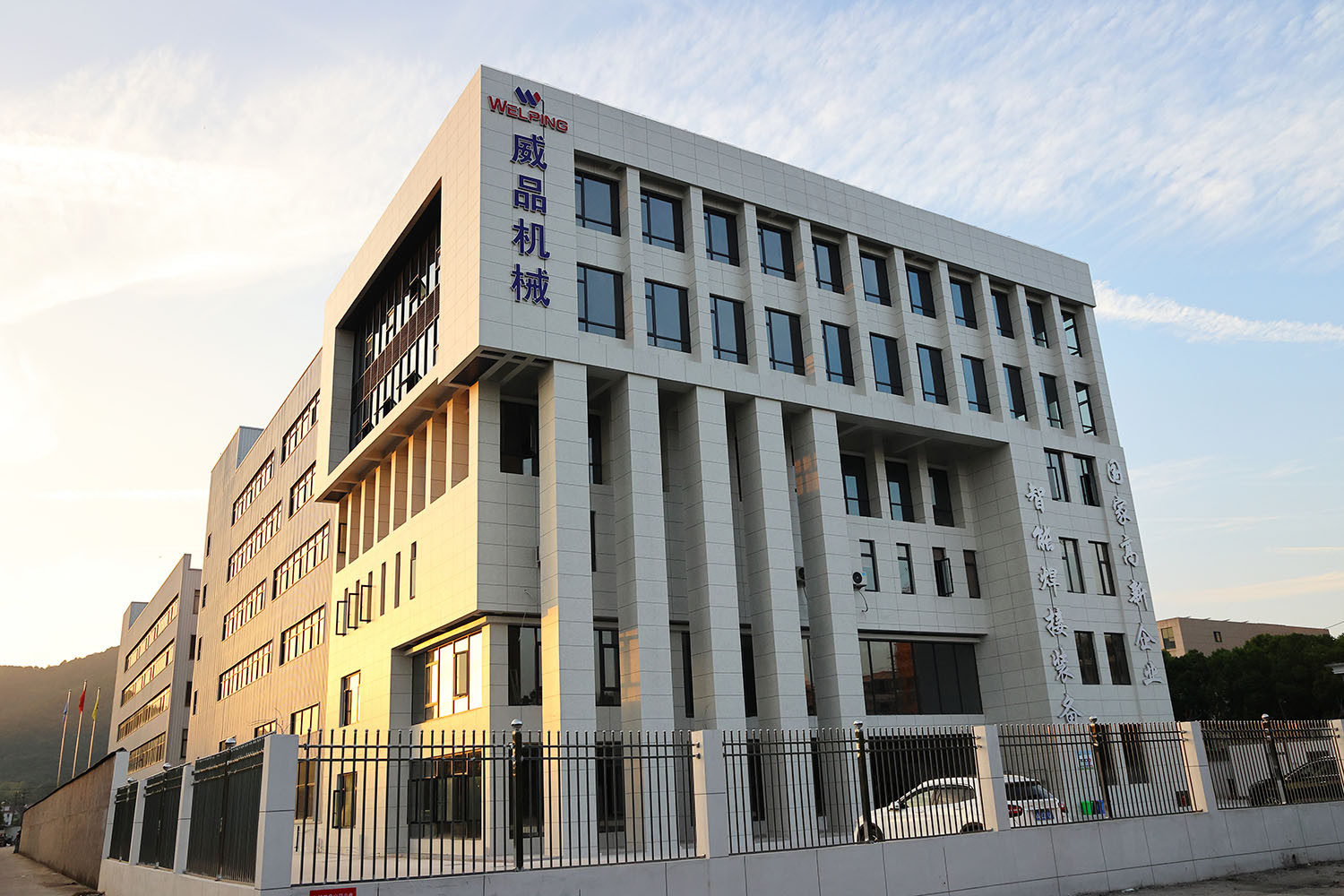 WELPING develops, manufactures, and sells devices and systems for welding thermoplastics and, in this area, focuses consciously on pipeline systems as the main field of application. And We have been in this field for more than 17 years since 2005.
We aim to bring industrial level design, performance and quality together, to provide professional solutions for a variety of mining & industrial, marine, municipal, irrigation, energy and landfill to help you build reputation.
WELPING is committed to becoming a business for all thermoplastic pipe, which includes the fusion equipment and certified technical training to assist with the installation and fabrication of any plastic pipes related project. WELPING has continually broadened the scope of supply and usage for polyethylene pipe, valve, and fitting system design into new market segments. Also, We help our customers source pipe tools to support their projects. Our success is in the quality of our products and the knowledge and service of our people.
Please send your message to us
Welping is dedicated to the manufacture ,sale and repair of machinery for welding and piping equipment.Plastic Welding and Piping Solutions, all solutions for your needs in a single supplier.Let us know how we can help